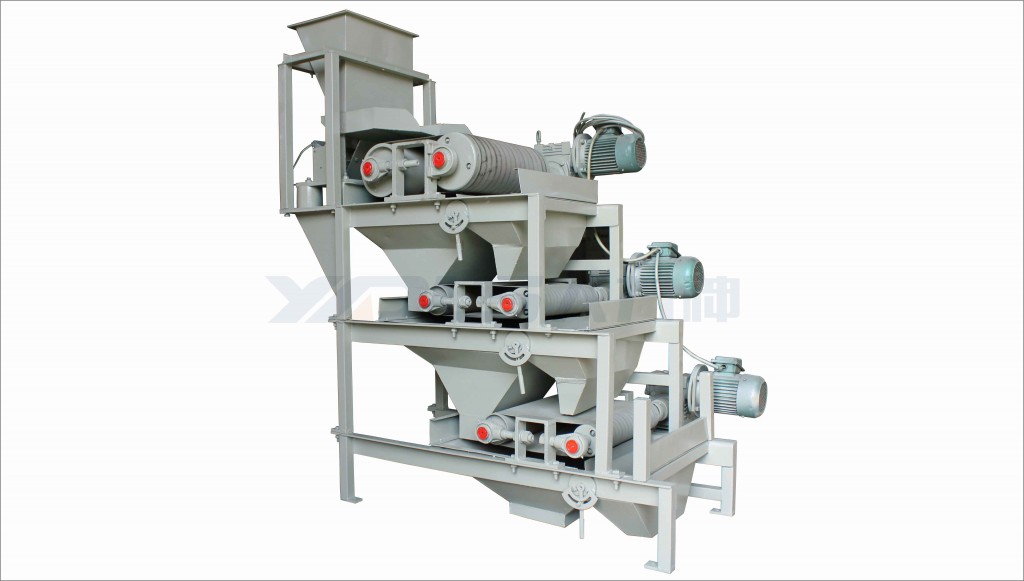 Dry Type Rare Earth Magnetic Roller Separator CR Series
Product Description
Dry Rare Earth Roll Magnetic Separator (RERMS) is to lower the content of ferrous contaminants in non-magnetic materials, or upgrade the ferrous minerals. It is for dry magnetic separation, with great magnetic intensity, it is suitable to treat weakly magnetic minerals.
Magnetic intensity, diameter and number of rolls are optional according to various minerals.
Applications
1. Separating or purifying the coarse weakly magnetic ore (such as hematite, ilmenite, manganese etc)
2. concentration of non-ferrous ore (such as quartz, feldspar, andalusite ete).
3. Removal of ferrous imparities from abrasives, catalysts and other powder.
Working Principle
Material is fed by a vibratory feeder
Rotating Belt carries material into the magnetic field of the magnetic pulley.
Magnetic particles are attracted by the magnet and discharged when the belt rotates to the non-magnetic field.
Then the magnetic particles go to the next stage for clean (Upgrade ferrous type), or the magnetic particles go to the Mag bucket, non-magnetic materials go to the next stage for clean.
Main technical data
| | | | | | |
| --- | --- | --- | --- | --- | --- |
| Model |  CR150Χ500 |  CR150Χ1000 |  CR250Χ500 |  CR250Χ1000 |  CR250Χ1500 |
|  Magnetic Intensity(Gs) |  12000~14500 |  12000~14500 |  12000~14500 |  12000~14500 |  12000~14500 |
|  Motor Power(Kw) |  2.2 | 2.2 | 2.2 | 2.2 | 3 |
|  Feed Power (Kw) |  0.12 | 0.12 | 0.12 | 0.12 | 0.12 |
|  Feed Fraction(mm) |  0.5~5 |  0.5~5 |  0.5~5 |  0.5~5 | 0.5~5 |
|  Capacity(T/h) |  1.5~3 | 4~5 |  2~4 | 5~6 | 6.5~7.5 |
|  Mass(Kg) |  700 | 800 | 900 | 1200 | 1400 |